The story of Natasha Rai and AFNA's volunteer spirit: A ray of hope for a successful Natasha and better Assam to dream and live
Prelude:
Natasha's mother died when she was 4yrs old. After her mother's death her father sold off all their property and was staying in rent house with his brother (Natasha's Paternal Uncle Mr. Janak Rai).And Natasha was admitted in a boarding School in Shillong. But after five years, in 2011 Natasha's father died in an accident. After his death her Uncle was paying boarding fees of Natasha but now he is sick and addicted to drugs and has no job. So he kept her in one of their relative's house, aunt Stella Warjri. There she started studying in Holy Cross School. (Now she is class IX.) But unfortunately, after six month Natasha was physically abused by her uncle which led to police case, and Natasha was shifted to stay in Children's Home, Shillong. That incident mentally broke her down. So, the Child Welfare Committee (CWC) of Shillong transferred her case to Guwahati CWC and she was given temporary shelter in Snehalaya and meanwhile Snehalaya was ordered to trace her uncle, Janak Rai. After tracing her Uncle, he let us know that he is unwilling to keep her with him or take any responsibility of her. He says he is sick and has no income.  A social investigating report also cleared that her uncle is not fit person to take Natasha's responsibility. Therefore, CWC ordered to keep her in Snehalaya and admit her in a good school in Shillong since she was studying there from her childhood. 
AFNA in action:
Ms. Anamika Barua, a social worker in Snehalaya reached out to AFNA last year in 2016 mentioning about the financial needs of the girl and how it was difficult for Snehalaya to bear all the educational expenses of a bright young student like Natasha. AFNA volunteers proactive and affirmative actions helped raise funds for the educational expenses and the kid gets back to school in Byrnihat, Meghalaya. As an immediate need for school fees for the year 2017-2018, Dr. Mustafa Barbhuiya (AFNA volunteer from Johns Hopkins School of Medicine, Baltimore, USA) immediately helped raise USD 600 and disbursed the amount to Snehalaya during his last visit to Assam during January 10-15, 2017. On top, he visited the Snehalaya orphanage and schools where more than two hundred children get education and shelter.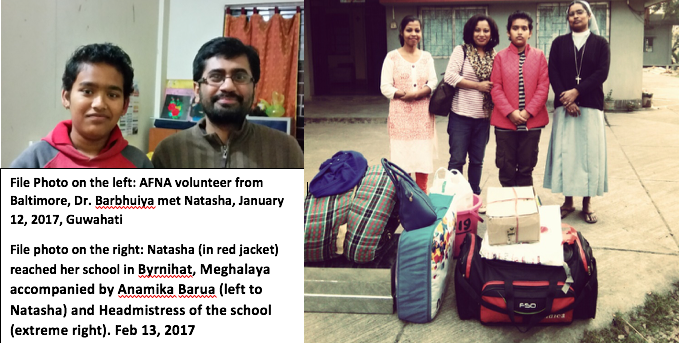 Volunteer report on the visit and the way forward
While spending a long evening in Snehalaya, Natasha was asked by the AFNA volunteer about what she wanted to be in future. She told about her passion to study hotel management, travel and tourism. She wants to pursue a career in hotel management and tourism. We at AFNA take the pledge of getting Natasha prepared for a higher education in Travel and Tourism. This is the way forward. We are the change makers. For us, a single life taken care of in the right direction means we built a solid house for a better society. Microlevel participation of this sort makes tremendous impact in societal development.
Action items
Natasha is currently in the ninth grade and before she completes her secondary (+2) education. Three more years to go!
Every year we need around India Rupees fifty thousand (Aprox USD 800) to support her education
First year is covered by AFNA's active fund raising
Rest two years we need USD 1600 more! Together we can do it!
Together we help, together we build the foundation of a better Assam where a kid like Natasha feels pride in to live!
Help us build a small house of social change with this small effort
Please donate to AFNA to continue this noble cause to give back to where we belong