Flood Resilience Assam (FRA)
AFNA is currently focused on supporting the immediate-term work to enable people in Assam to survive the floods by increasing the resilience of flood-impacted communities. This is needed until larger infrastructure changes are undertaken with full vigor to systematically reduce the flood levels in the Brahmaputra and other rivers in the region. Floods in these rivers are a regular annual event, and the level of destruction and loss of life that happen every year are huge. Examples of infrastructure changes that need to be taken to prevent such loss are more active erosion control and extensive dredging of river beds. In the meantime, AFNA continues to work with reputed NGO's in Assam who are doing the much needed grassroots work to help communities gain the necessary resilience to lead productive, healthy lives even with the annual floods.
Recent Updates:
Support In Goalpara - Livelihood Restoration Phase 2 (Jan 2015 Update)
Support In Goalpara - Livelihood Restoration Phase 1 (Dec 2014 Update)
Support In Dhemaji - Country Boats (Oct 2014 Update)
Support In Dhemaji - Biosand Filters (Aug 2014 Update)
---
Support In Goalpara - Phase 2 (Jan 2015 Update)
Phase 2 of the 'Joint Livelihood Project' in villages near Agia in Goalpara district continued with generous additional support from AFNA's partner NGO, Association for India's Development (AID). As recommended by its Seattle chapter, AID donated $10,000 additionally for the project in December from its central disaster Relief Fund. With that funding supplementing the $10,000 raised by AFNA in phase 1, PSC was able to restore livelihood to over 300 families in total across both phases. This was a tremendous achievement since the initial plan was that only 229 families could be helped. Thanks a lot to AID and to the amazing work of the PSC team on the ground in Assam equally well assisted by CRD and RVC.  AFNA volunteers were proud to play their part to coordinate this unique joint project.
Support In Goalpara - Phase 1 (Dec 2014 Update)
AFNA sponsored Phase 1 of the 'Joint Livelihood Project' to restore basic means of livelihood to families severely impacted by the September 2014 floods in villages near Agia in Goalpara district. AFNA sent $8900 based on organic fundraising by supporters supplemented by funds raised in a unique 'Dance for a Cause' in Philadelphia by Sattriya Dance Company. Additionally Rs. 65,000 (USD $1100 approx.) was raised by AFNA appeals to India supporters for a total amount of $10,000 for phase 1.
The project work was implemented by Centre for Rural Development (CRD), AFNA's long-standing partner for Rickshaw Bank and other projects, by initiation and in association with Purbanchal Social Circle (PSC) whose dedicated volunteer team is based in Agia. Rural Volunteers Centre (RVC) of Dhemaji, AFNA's partner in the Dhemaji flood relief work was also a close advisor in defining the work.
In phase 1, over 80 severely impacted families in 4 villages are being supported. Support is by providing livestock, constructing livestock shelters, providing handlooms, tins for roofs, and some housing for the most needy. On Dec 21, a distribution ceremony was held in Agia under the auspices of PSC with CRD members attending as well. This was the ending ceremony of a month of hard work by the volunteers of PSC, CRD, and AFNA. Below are some photographs taken during the distribution ceremony.
It was heartwarming to see the dedication of PSC and CRD volunteers in this work. It was also very heartwarming to see the smiles and hope restored in those families who we were able to help with this unique collaboration. We thank our donors for their generous financial support, and all our supporters for encouragement and help in the process.
Support In Dhemaji (Oct 2014 Update)
$2000 was donated generously in July (at the Assam Convention and by other generous donors). This was in addition to $1200 already sent from the AFNA General Fund for bio-sand filters. This new amount was for other critical needs identified by Rural Volunteers Centre (RVC): country boats for rescue, and mock drills for villagers.
RVC put part of that money to use immediately to procure five country boats. Those five boats were used to save the lives of around 500 people in Dhemaji district in this year's floods. This was done by operating the boats round-the-clock during the most severe part of the flood season to rescue people marooned on the roofs of their houses.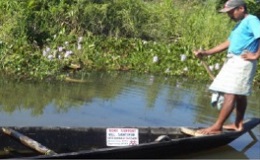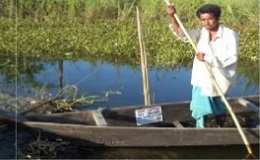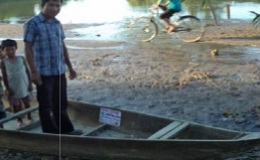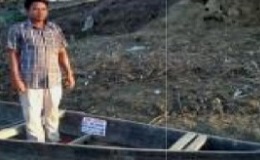 The five country boats acquired by RVC in Dhemaji district
Clockwise (from top left): The boats in village Santipur, Joldubi, Rohitpur Deori, Beramesh, and Nalanipam
To summarize the impact: $2000 to save 500 lives, and the potential to reuse these boats for future floods. This is a really meaningful partnership between RVC and AFNA to make a difference in Dhemaji. AFNA volunteers cannot be prouder of what we have all achieved together with our donors and with the help of RVC. Thank you to all the donors and to the dedicated team at RVC!
Support In Dhemaji (Aug 2014 Update)
AFNA is currently working with Rural Volunteers Centre (RVC), a trusted partner NGO in Assam, to ensure clean drinking water in Dhemaji district, one of the affected districts this year. We may think that drinking water is not a problem during floods when water is everywhere. But, flood waters contaminate clean water sources and cause many deaths and illnesses from disease. A quick-assembly biosand filter (please see photos below) is priceless for saving lives by providing clean drinking water. Each biosand filter costs RVC Rs. 1400 to deploy (approx. US $25). The 50 filters we have already funded protect over 1000 people in Dhemaji district but the need is much greater. Please donate generously to AFNA to acquire more filters to save more lives in Dhemaji district.
You can donate online and by check. Please note "Flood Resilience Assam" as memo if you are donating by check.
---
Biosand Filters in action in Dhemaji
Note that the higher bucket contains the actual filter whose schematic is shown below. The lower bucket is used to store the filtered water that comes out of the faucet on the higher bucket.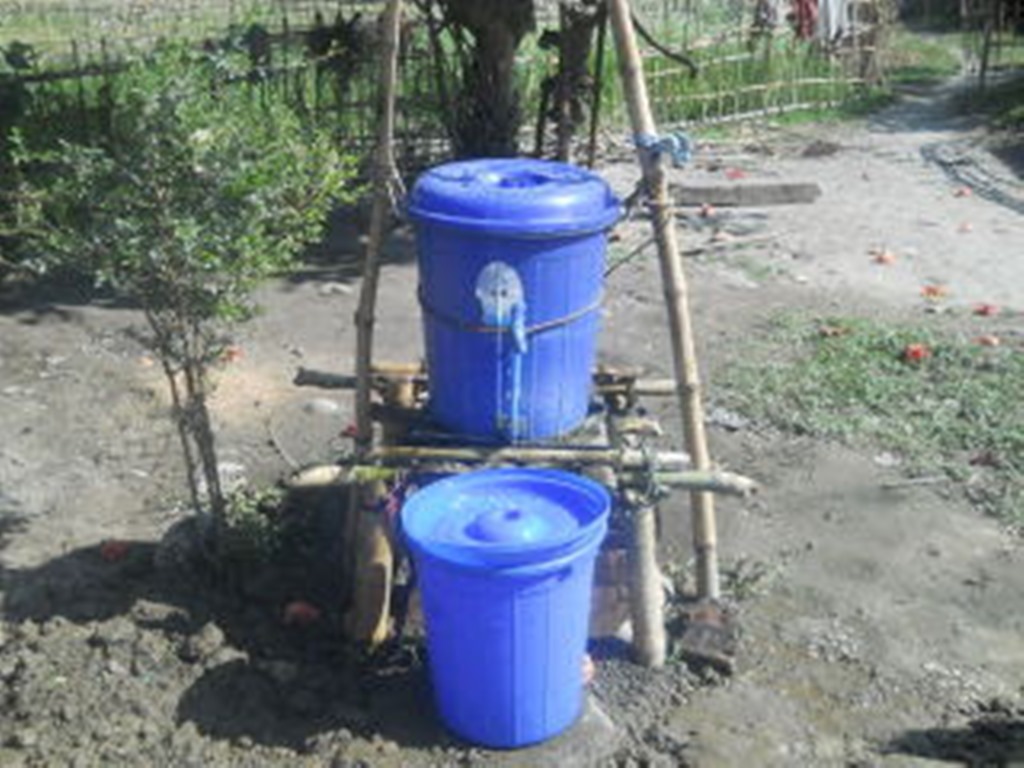 Close-up View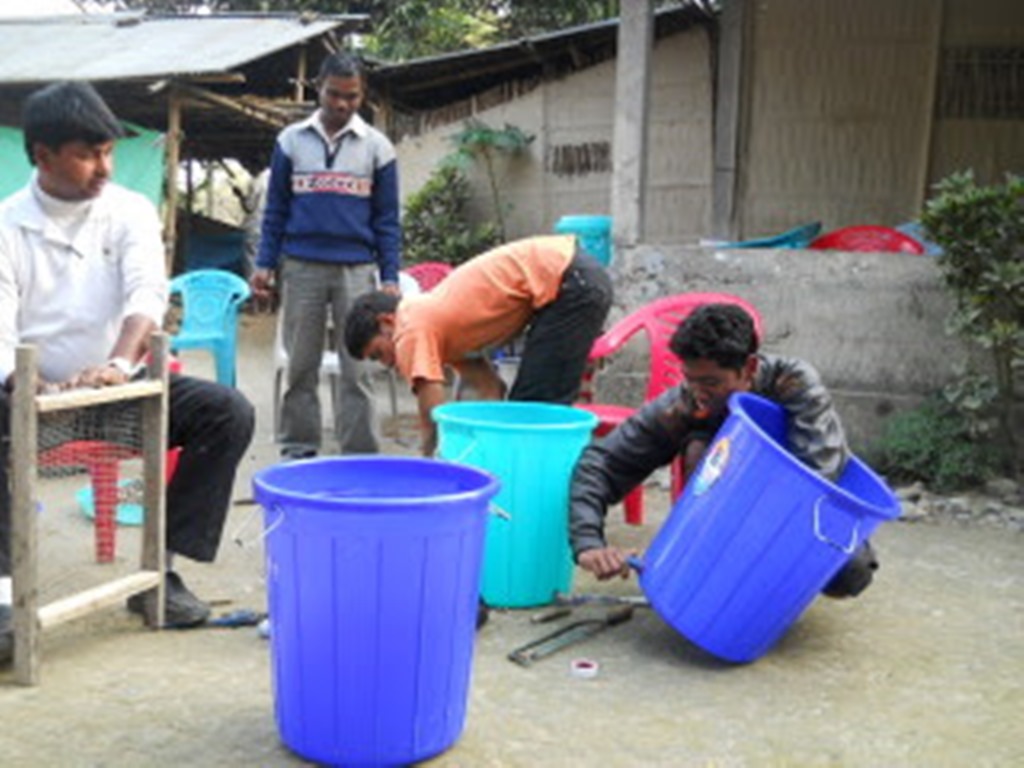 RVC Staff at work assembling the Filters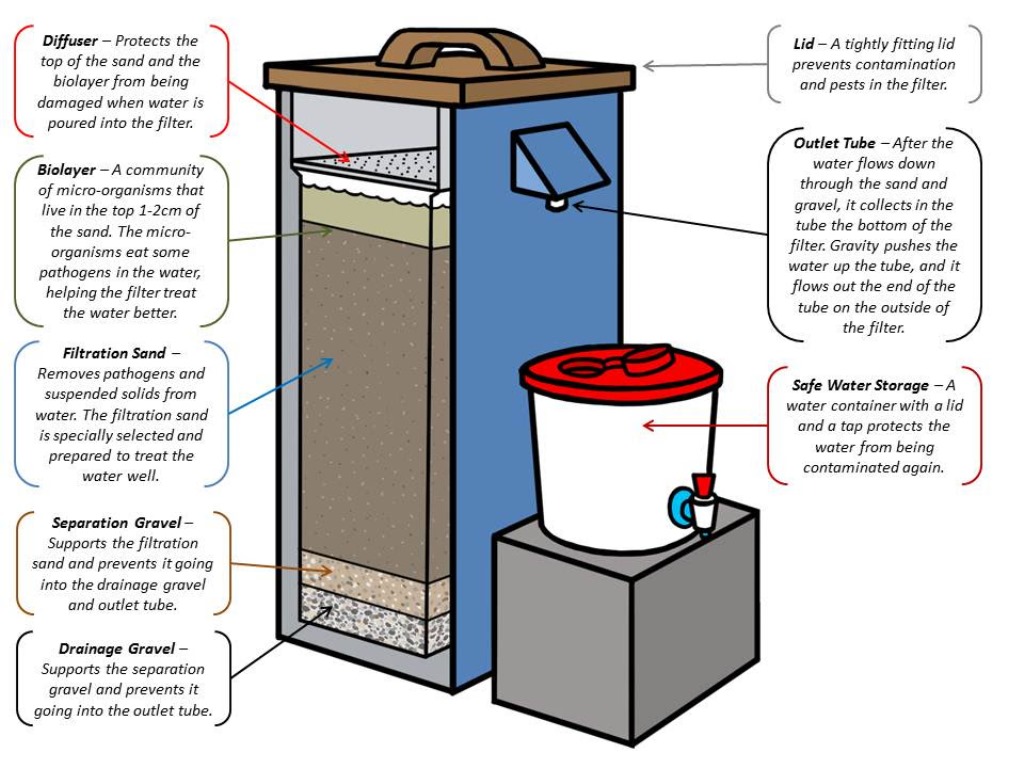 Schematic of Design used by RVC