AFNA 2016 Calendar Is Here!
Order Now!!
The annual AFNA calendar for year 2016 is ready for distribution. As in previous years, this calendar is designed by our dedicated volunteers with photos reminding us of Assam. You can take a look at the preview here: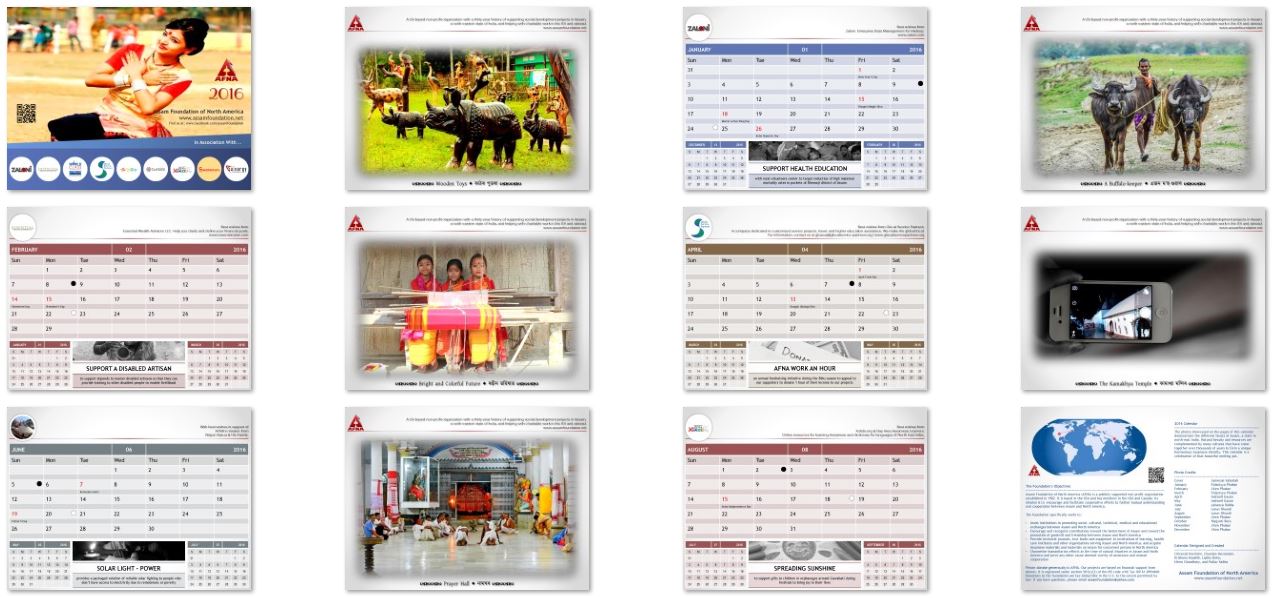 We are now taking orders to reserve the calendars for you. This will be available with us for distribution by Thanksgiving. Also importantly, you can request us for shipping few copies of the calendar for free to your friends and relatives in India for free. 
Please reserve copies of this beautiful calendar by Nov 15 by filling up this form or e-mailing This email address is being protected from spambots. You need JavaScript enabled to view it. with the requested number of copies.
As you know the annual calendar is the primary fundraising vehicle for AFNA for our social development projects in Assam. When you receive the calendars, we hope you will donate generously to AFNA and also apply for any eligible employer matching funds. The calendar is priced at $9 but we highly appreciate any donation above it.
AFNA is a 501(c)(3) non-profit organization and does not have any paid employees. So, not only is your donation to AFNA tax-exempt but also 100% of your donations are used for our projects in Assam with regular monitoring by our dedicated volunteer group in North America to ensure proper utilization.
Your donations will support our projects including Scholarships for needy children, Flood resilience support for affected residents, enhancing employment opportunities for disabled, and many others that you can review in our website.